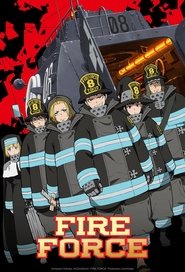 Fire Force
Fire Force is a movie starring Gakuto Kajiwara. Year 198 of the Solar Era in Tokyo, special fire brigades are fighting against a phenomenon called spontaneous human combustion where humans beings are turned into living infernos called "Infernals". While the Infernals are first generation cases of spontaneous human combustion, later generations possess the ability to manipulate flames while retaining human form. Shinra Kusakabe, a youth who gained the nickname Devil's Footprints for his ability to ignite his feet at will, joins the Special Fire Force Company 8 which composes of other flames users as they work to extinguish any Infernals they encounter. As a faction that is creating Infernals appears, Shira begins to uncover the truth behind a mysterious fire that caused the death of his family twelve years ago.
Rated: 7.1/10 with 23 votes.
Genre: Animation, Action & Adventure, Drama, Sci-Fi & Fantasy
Actor: Gakuto Kajiwara, Yuusuke Kobayashi, Saeko Kamijo, M·A·O, Kazuya Nakai, Kenichi Suzumura, Aoi Yuki, Daisuke Sakaguchi, Taku Yashiro
Director: Yuki Yase
Duration: 24 min.
Quality: HD
First Air Date: Jul 06, 2019
Last Air Date: Dec 28, 2019
Production: MBS, TBS
Views: 8.169