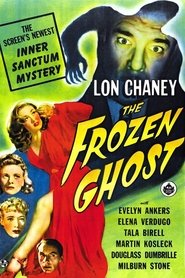 The Frozen Ghost
When a man dies of a heart attack, a stage and radio mentalist believes he has willed him to die because he was angry with the man. Riddled with guilt, the mentalist cancels further shows, breaks off his engagement to his female partner, who can read minds while in a hypnotic trance, and takes refuge in the eerie wax-museum-cum-home of another woman friend.
Actor: Lon Chaney Jr., Evelyn Ankers, Elena Verdugo, Martin Kosleck, Tala Birell, Milburn Stone, Douglass Dumbrille, Arthur Hohl
Director: Harold Young
Country: United States of America
Duration: 61 min.
Quality: HD
Release: Jun 01, 1945
Production: Universal Pictures Co. Inc.
Views: 2.564
IMDb: 6.410 14