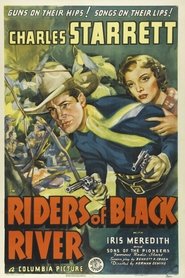 Riders of Black River
Former Texas Ranger Wade Patterson (Starrett) returns to his home town, only to find that the territory is in the grip of cattle rustlers. For a while, it looks as though heroine Linda Holden (Meredith) is in cahoots with the bad guys, but Patterson quickly clears her name and takes on the crooks himself.
Genre: Western
Actor: Charles Starrett, Iris Meredith, Dick Curtis, Stanley Brown, Bob Nolan, Francis Sayles, Edmund Cobb, Ethan Allen, Carl Sepulveda, Olin Francis, Maston Williams
Director: Norman Deming
Country: United States of America
Duration: 59 min.
Quality: HD
Release: Sep 23, 1939
Production: Columbia Pictures
Views: 0.6
IMDb: 010 0