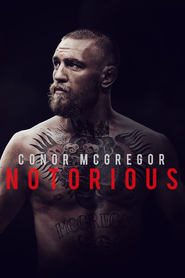 Conor McGregor: Notorious
Conor McGregor is the biggest star in the history of Mixed Martial Arts. Filmed over the course of 4 years, Notorious is the exclusive, all-access account of Conor's meteoric rise from claiming benefits and living in his parents' spare room in Dublin to claiming multiple championship UFC belts and seven figure pay-packets in Las Vegas.
Genre: Documentary
Actor: Conor McGregor, Dee Devlin, John Kavanagh, Owen Roddy, Artem Lobov, Audie Attar, Dana White, Lorenzo Fertitta, Margaret McGregor, Tony McGregor, Erin McGregor
Director: Graeme McDonnell
Country: Ireland
Duration: 90 min.
Quality: HD
Release: Nov 03, 2017
Production: Universal Pictures, McGregor Sports & Entertainment
Views: 7.238
IMDb: 7.510 74