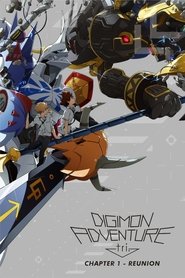 Digimon Adventure Tri. - Chapter 1: Reunion
It's been six years since that summer adventure when Taichi Yagami and the rest of the DigiDestined crossed over to the Digital World. And nearly three years have passed since the final battle between Hikari Yagami's group and BelialVamdemon. As the peaceful days passed by, at some point the gate to the Digital World closed. Not even the DigiDestined know what caused this, and time alone continues to pass.
Actor: Natsuki Hanae, Yoshimasa Hosoya, Mao Ichimichi, Suzuko Mimori, Mutsumi Tamura, Junya Ikeda, Hitomi Yoshida, Jun'ya Enoki, Chika Sakamoto, Mayumi Yamaguchi, Takahiro Sakurai
Director: Akiyoshi Hongo
Country: Japan
Duration: 96 min.
Quality: HD
Release: Nov 21, 2015
Production: Toei Animation
Views: 7.907
IMDb: 7.910 25